COP27 is now underway in Egypt and the Anglican Communion delegation is working intensively to raise up its key messages, based on Anglican experience and priorities.
This piece introduces the Anglican Communion delegation and what they are hoping to achieve at COP27. Please pray for them and all those in Egypt at these vital negotiations. Please pray for urgent and courageous decisions and action to be taken. For background on the COP and the key messages of the Anglican Consultative Council's policy paper, please see part 1 of this web story.
The delegation
The delegation has been selected on the basis of experience and expertise, whilst also providing gender and geographical balance, as well as prioritising the voices of women, youth and Indigenous people.
The UNFCCC COPs are intense, multi-layered meetings with thousands of delegates taking part in numerous simultaneous events. As well as the blue zone, which is only open to accredited parties and observers, there is a green zone, where innovators and civil society can showcase how they are responding to climate change, and external events. It is a busy and potentially overwhelming space. So, what is the purpose of being there and what do we hope to achieve?
As this will only be the second time the ACC has participated, we are still learning. However, based on experience from COP26, the delegation is aiming to:
Speak into the conference – to represent the 85 million members of the Anglican Communion and bring its experiences, voices and key messages in the blue zone. This will happen in a variety of ways, including through: meetings with party representatives and other key people in order to share the key messages of the policy paper; conversations in the country pavilions and other spaces; making interventions in sessions where possible; joining in approved campaign actions on just climate financing organised by ACT Alliance; participating in side events. The Anglican Communion is among the sponsors of one of the official side events: "Realizing Ambition through Ethical, Intergenerational and Multisectoral Responses to Climate Crises" on the 9th November.
Already, the delegation has made use of the opportunities to speak, ask questions and share our policy paper.
Establish a trusted and credible presence – to build the Anglican Communion's reputation for intelligent, rigorous and insightful engagement in the UNFCCC processes and grow the likelihood of being listened to.
Build relationships and make connections – to meet and join with ecumenical and other partners. This is in order both to support and lift one another up, amplifying the voice of faith actors in the UN space, and to build our ongoing relationships more generally. The delegation has already met with many such partners, including the Holy See delegation.
Listen and learn – to increase our knowledge and to find new ways of engaging with the issues. One part of this will be trying to understand what the blockages to progress are – why the urgent and radical changes everyone knows (and even agrees) are needed are not happening, in order that we can adapt our advocacy accordingly.
Speak outwards into the world and into the Communion. The delegation will be seeking out and using any opportunities that arise to speak about the Communion's priorities. The delegation has already been doing this in different ways: speaking at press conferences, at a rally and in focused conversation about women, youth and Indigenous people. In the short video below, Archbishop Julio calls for climate justice at a rally of civil society organizations and faith communities at COP27.
Pray – to engage deeply and prayerfully and discern what God might be doing – to feel where the Spirit might be dancing – in this space.
Will the Anglican Communion delegation change the outcome of the COP? In terms of policy outcomes, probably not (though we live in hope!). The opportunity to influence policy outcomes is very limited within the intense space of the COP itself, when parties are deep in their negotiations with policy positions already established. The real opportunity to affect policy outcomes is in the time between COPs (which happen annually), advocating with national governments to influence policy positions. This is a vital activity and responsibility of the Church, advocating with our national governments to greater ambition and action.
So, is there any point in being at the COP? Yes. Because the policy outcomes captured in the end of conference statements (such as the Glasgow Climate Pact last year) are only part of how gatherings such as a COP move the world forwards. Moments make movements. They create and release energy. They catalyse change. They change perceptions and understandings. That is what the Anglican Communion's engagement with COP27 is equally about. Our task as people of faith is not simply to work to change policies but to change the narrative.
Changing the narrative
As the Anglican Communion, we have something incredibly precious – we are a global, connected body and we have an overview. To quote from the COP26 policy paper,
"As a global, connected body with a shared identity that transcends national borders, the Anglican Communion has a distinctive perspective on climate change. Member Churches of the Anglican Communion are involved in every part of the story of climate change. We are the people facing devastation in disaster-stricken communities. We are the polluters in wealthy countries. We wield power and political influence. We are the poor and marginalised. We are investors with financial capital. We are first-responders to disasters and those who accompany communities on the journey through to recovery. We contribute to the problem. We contribute to the solution. We are both local and global. We connect with one another, share our experiences and can leverage our networks and shared identity to mobilise for climate justice and climate action. We therefore do not speak from just one position but from many. We do not only speak to others; we speak also to ourselves."
We see things from a different perspective, and we can help others see things from a bigger perspective too: one of interconnectedness, shared humanity and love for our common home. We can share a more compelling vision of mutuality and abundance, based on our faith – a faith that believes in transformative change (metanoia), teaches us love of neighbour and is founded on Jesus Christ who came to bring good news to the poor, release to the oppressed and abundant life for all [Luke 4:18 and John 10:10]. We can point to realities and possibilities the politicians are failing to grasp. It's a moral call but it's more than that – it's about firing people's imaginations.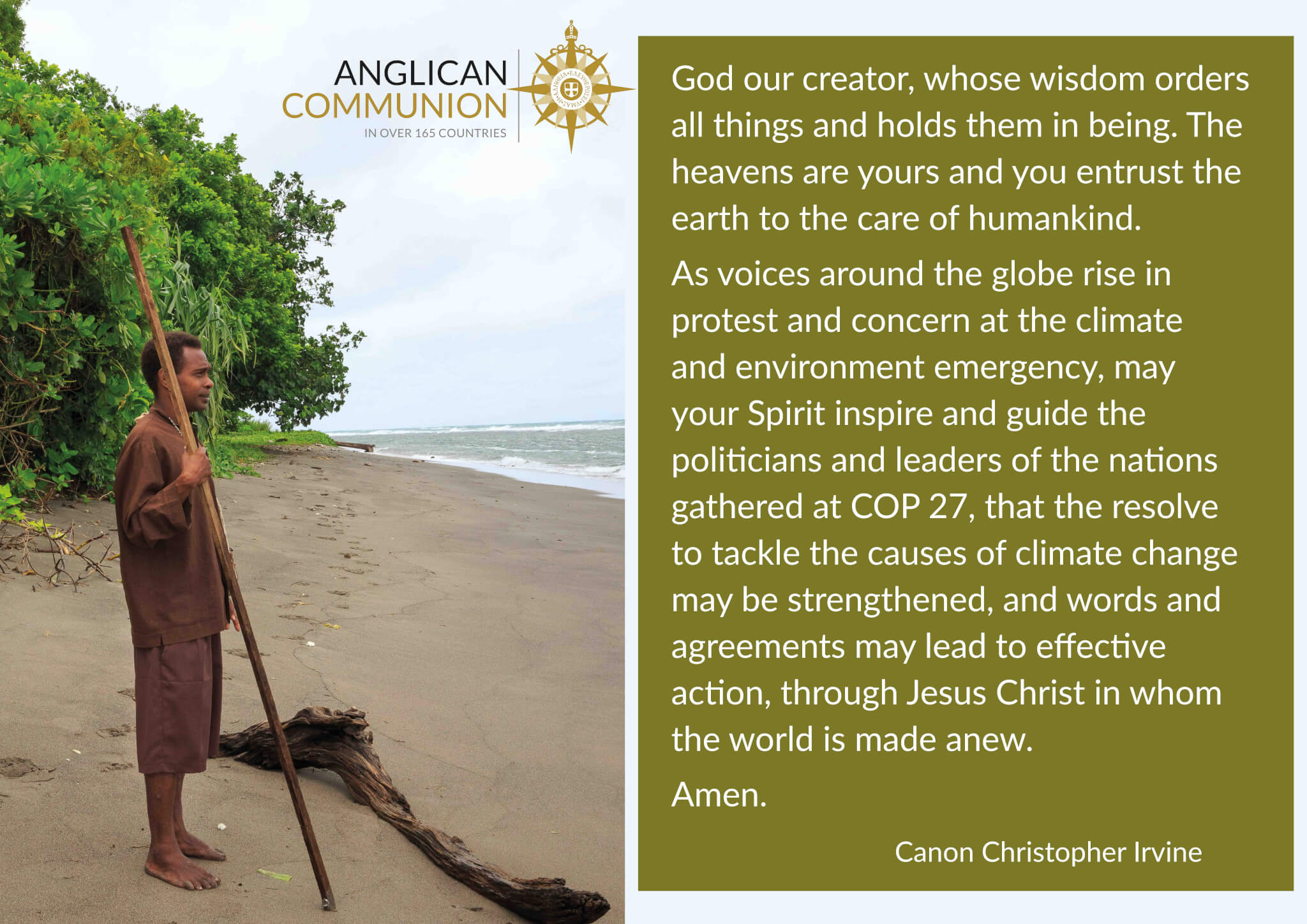 The Anglican Alliance and climate change
The Anglican Alliance exists to connect, equip and inspire the worldwide Anglican family to work for a world free of poverty and injustice and to safeguard creation. The integrity of creation is under severe strain as a result of climate change, environmental degradation and biodiversity loss. Environmental degradation and climate change are also major factors driving poverty and migration and are therefore cross-cutting issues that are part of each of our three pillars of relief, development and advocacy.