The United Nations' Secretary-General called on world leaders to make new proposals towards a meaningful climate agreement when they meet in Paris next year, and asked them to work together to a fossil-fuel free future.
Ban ki-Moon said, "Today's Climate Summit has shown an entirely new, cooperative global approach to climate change.  The actions announced today by governments, businesses, finance and civil society show that many partners are eager to confront the challenges of climate change together."
In the opening session, civil society representative Kathy Jetnil-Kijiner, a poet from The Marshall Islands in the Northern Pacific, won a standing ovation when she recited a poem she had written to her seven-month-old daughter:
<p "text-align: center;">"We are spreading the word
and there are thousands out on the street
marching with signs
hand in hand
chanting for change NOW
they're marching for you, baby
they're marching for us
because we deserve to do more than just
survive
we deserve
to thrive." <p "text-align: center;">You can see the full video here.
In New York 400,000 people marched through the streets on Sunday 21st September in the People's Climate March.  In the picture below an ark leads the interfaith community in the march.  Over 2000 satellite events took place around the world, and public pressure for a strong international climate treaty continues to grow.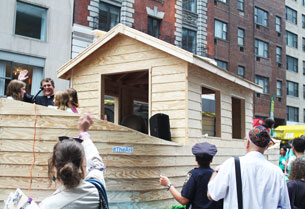 A small but growing number of countries joined Ban Ki-moon and actor Leonardo diCaprio to confirm the need to speed up the switch from fossil fuels to 100% renewable energy, such as Samoa, Tuvalu, Costa Rica and Denmark. Other countries, like Sweden, Trinidad and Tobago, Ethiopia and Iceland pledged to go carbon neutral by 2050.
Some of the strongest commitments came from Small Island Developing States (SIDS) who mentioned how extreme weather and the economic costs of climate change are impacting them now.  The Prime Minister of Samoa said, "Even if the impacts of our contributions are negligible, we are committed to action."  The Anglican Alliance are supporting the voices of Pacific Islanders and asking the worldwide Church to sign a petition calling on the Australian Government to put climate change on the agenda when the G20 meet in Brisbane later this year.  The petition can be seen at https://anglicanalliance.org/Advocacy/oceans-of-justice.
UK Prime Minister David Cameron reiterated the UK's commitments to renewable energy and said, "We are on track to cut emissions by 80% by 2050."  He continued, "We must provide support to those who need it, particularly the poor and most vulnerable."
Leaders called for urgent and significant action on climate change in mobilising finance for climate action, increasing the use of renewable energy, increasing energy efficiency, reducing deforestation, promoting climate smart agriculture, building resilience, reducing pollutants, and promoting climate action in the world's cities.
Commitments from key stakeholders including finance, forests, industry, agriculture, transport, energy, resilience, and cities formed the afternoon sessions.  The afternoon ended with over $1 billion in new pledges to the Green Climate Fund.  Press releases from the UN on these commitments can be seen here.
The summit acknowledged that world leaders can no longer silence the voice of the people, who around the world are calling for justice and equality, and for support for those hardest hit by the effects of climate change.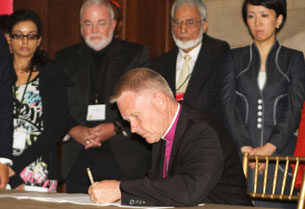 Action in New York was met with momentum on climate calls elsewhere.  The Church of Sweden has become the latest national Church to eliminate fossil fuels from its investment portfolio.  As one of the first institutions to take up divestment, the Church of Sweden now believes investments in fossil fuel companies are a financial risk and that investing in renewable energies is economically beneficial.  In the picture on the right Archbishop Emeritus Dr Anders Wejryd of the Church of Sweden signs the interfaith statement on climate change.
On 18th September the Church of England joined the world's leading institutional investors to call for carbon pricing and an ambitious global climate deal.  They want governments to provide meaningful carbon pricing to help them to invest to meet the climate change challenge, and are asking them to develop plans to phase out subsidies for fossil fuels.
The leaders of the Anglican Church of Canada, The Episcopal Church, Evangelical Lutheran Church in America, and Evangelical Lutheran Church in Canada also released a pastoral message on climate change, saying, "We are united as Christian leaders in our concern for the well-being of our neighbors and of God's good creation that provides life and livelihood for all God's creatures."
They said, "We also have the resources and responsibility to act together for the common good, especially for those most vulnerable to the effect of climate change.  We encourage you to take the initiative to engage decision-makers in this godly work in all arenas of public life — in government and business, in schools and civic organizations, in social media and also in our church life.  We are not powerless to act and we are not alone."
On Wednesday 24th September a global webinar run by the Anglican Alliance brought these high-level commitments to local communities and facilitated a discussion on climate change and climate justice.
The People's Climate March drew crowds in cities worldwide with the message, "To Change Everything, We Need Everyone."  With Heads of State gathering in New York to make their pledges towards a strong climate agreement in Paris 2015, global citizens are working together around the world to take the lead, showing in action and not just words that a climate-friendly, sustainable future is possible.
In the picture: The Church of Bangladesh join the People's Climate March in Dhaka, despite the rain, to make sure their voices are heard for climate action.
Article written by Christina Manning for The Church Times.