Archbishop Henri Isingoma, Archbishop of Congo, joined an ecumenical panel at the Global Summit to End Sexual Violence in Conflict, which gathered this week in London.
The panel, which discussed the holistic role of faith communities responding to sexual violence in the country, was convened by the We Will Speak Out Coalition, of which the Anglican Alliance is a core member.
The DRC has experienced some of the worst rates of sexual violence, increasing during its many years of conflict. Archbishop Henri has led the church in reaching out to survivors, building the church as a safe space for women and addressing the root causes of sexual violence.
The picture, below right, shows the full panel, from left: Thérèse Mema Mapenzi, from the Justice and Peace Commission in DRC, a partner of CAFOD; Archbishop Henri Isingoma, Anglican Archbishop of Congo; Mr Hendrew Lusey, from the World Council of Churches, who chaired the discussion; Louise Bashige, Sexual and Gender Based Violence Technical Advisor for IMA World Health; and Dr Jo Lusi, Co-Founder of HEAL Africa.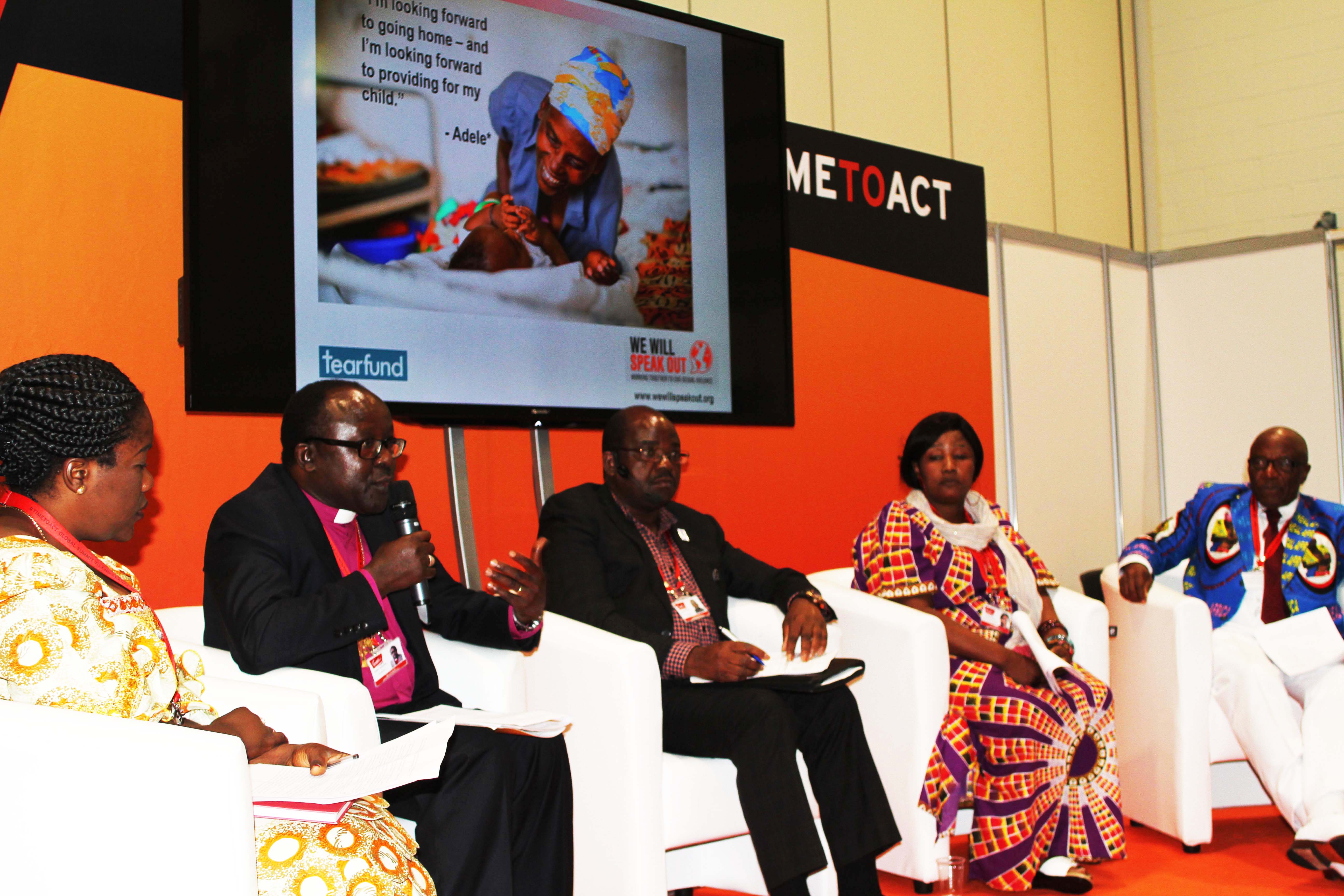 Key questions posed to the panel included, "How can church leaders and communities prevent and respond to sexual violence?" and "How can survivors be empowered and equipped to ensure that their voices and needs are central to the response of the church and faith communities?"
Questions on sexual violence against men and boys were also addressed, as well as ways in which the church can work with perpetrators to prevent and respond to sexual violence.
Hendrew Lusey said, "Men are often seen as powerful, as masters, and women as submissive. Churches can bring transformation of culture and tradition by addressing key beliefs that can lead to inequality and the spread of violence."
Dr Jo Lusi said, "Negative masculinity is often identified as the origin of these problems. This is often the case with children in the military. Unless you rape a girl you are not seen as a 'man'."
And Archbishop Henri said, "We need to move people from ignorance to having positive attitudes. As we are working with Tearfund we are bringing men, women, survivors together to tell their stories. We are teaching positive masculinity. When men heard about rape they would rape in revenge, but after our teaching this first response is undermined."
Another question raised the issue of prosecution and policy. Thérèse Mapenzi noted the existence of laws against sexual violence, but outlined the obstacles in implementing them. She said, "We have laws in the DRC but they are not always enforced or respected."
Faith leaders are encouraging men and boys to become defenders of these laws and translate them in to local languages for local teaching. Faith leaders are central in sharing this messaging and ensuring that local communities hear the call for justice.
Louise Bashige gave examples of community-based committees, which work together to fight sexual violence. She also commented that sometimes religious groups can contribute to the problem. She said, "Some think it is a taboo to discuss sex in church." She challenged the churches to break the silence and become part of the solution.
Archbishop Henri insisted that the church must overcome culture and traditions and said, "We say no more silence, we will speak out."
Revd Rachel Carnegie, Co-Director of the Anglican Alliance, reflected on the insights of the ecumenical panel.
She said, "It was inspiring to hear the churches talking about this vital response to sexual violence in the context of their holistic mission in the communities they serve. Learning from this work in DRC, and other parts of the Anglican Communion, the Anglican Alliance will seek to share skills and build the capacity of local churches to help end the suffering of sexual violence."
You can see more news from Anglicans working in the DRC.
And follow us on Twitter for live updates from the Summit #TimeToAct #FaithSpeaksOut