We cannot tackle this alone. It is vital that churches work together.
The Pope, the Archbishop of Canterbury and other world faith leaders came together on 2 December 2014 to commit their faith communities to work together to seek an end to modern slavery and human trafficking. Pope Francis has called the trade "a modern crime against humanity".
This January the Week of Prayer for Christian Unity, prepared by the churches in the Caribbean, focused on the issue of slavery in its historical and contemporary forms. Christians came together 200 years ago to call for an end to slavery. We need a modern movement of Christians and other people of good will to unite and end the terrible crime and appalling suffering of modern slavery.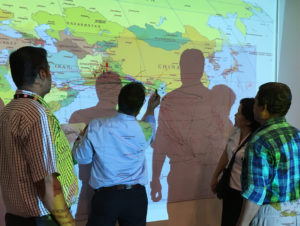 The Anglican Alliance collaborates closely with Caritas Internationalis and the Salvation Army in its global work against modern slavery. Pray that this Freedom Year encourages the further unity of the churches in coming together to tackle modern slavery and human trafficking worldwide.
---
Prayer Points
Spend some time thinking about the year ahead and asking God to give you wisdom and understanding as we start this journey together.
---
Join us on social media #ChurchesAgainstTrafficking
We would love to hear from you!  Join us using the links below to stay up to date with activities during Freedom Year.
Facebook: https://www.facebook.com/anglicanalliance
Twitter: https://www.twitter.com/anglialliance
And sign up to our mailing list for bi-monthly updates at: https://anglicanalliance.org/news/mailing-list