The Anglican Church in Sri Lanka has been engaging in disaster preparedness training to help communities respond to the increasing natural disasters affecting the country.  In many dioceses this has lead to a deep connection with local communities and the desire to broaden community empowerment and development in other areas.
Janice Proud, Anglican Alliance relief manager, recently attended a workshop in Sri Lanka to see how the National Christian Council (NCC) of Sri Lanka are using the Anglican Church's training to enable faith communities to reduce the impact of disasters and respond effectively when they happen.
Background
Coastal regions of Sri Lanka were devastated by the Indian Ocean tsunami in December 2004, with waves up to twelve metres high, leading to high death toll, casualties, destruction of 90,000 homes as well as community buildings and loss of livelihoods.
After the initial recovery work, the Diocese of Colombo set up a think tank on disaster management and disaster risk reduction, to learn from the experience and plan for the future.  In May 2017 the country was devastated by torrential rains, mud slides and flash flooding in 15 districts.  This time the church was ready to respond effectively and efficiently, with a new asset-based and community-driven approach.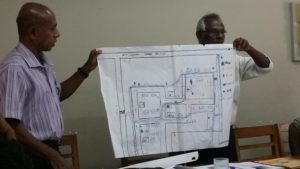 The subsequent training of teams from around the Diocese of Colombo in disaster preparedness and response had a huge impact on how the church and communities responded to flooding, landslides and other emergencies. They were more efficient and effective, and worked with national and local government to implement their response. The community work is led by clergy and lay volunteers.
This improved response was noticed by the NCC, who approached the diocese requesting training for ecumenical teams around the whole country. DRR is a new area for the church and it was important to ensure good engagement to ensure sustainability.
The archdeacon in the Diocese of Kurunegala said, "Initially participants thought it was just another training, but after the field experience, mapping and assessments, they learnt the importance of working with communities and preparedness. They were transformed."
On a recent visit to the Diocese of Colombo, Janice Proud, Anglican Alliance Relief Manager, and a group of Anglicans from around the Anglican Communion, were able to join a workshop for the NCC teams.
Janice said, "Teams had been working in their communities to prepare risk maps. It was interesting to hear how the risks varied around the country: flooding and landslides around the central mountains, drought in the northern areas, damage to crops and homes by elephants in drought areas, chronic kidney disease due to arsenic and cadmium poisoning from intensive agriculture, water pollution. They also shared how the communities are planning to mitigate the risks they had identified, for instance where water is heavily polluted from pig keeping, they plan a biogas unit which will clear up the water and improve air quality from the stagnant water, as well as providing gas for cooking and compost to improve crop production."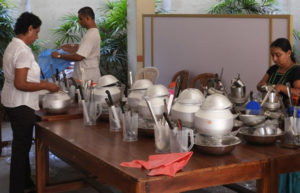 In other areas committees are also engaging deeply with their communities. They are finding that they are identifying other issues in the communities that they feel they want to be engaging with, such as health, education, migration from rural areas, and plantation workers rights.  The Diocese of Colombo is finding that the committees are needing support not just for Disaster Preparedness and Response but for Sustainable Community Empowerment.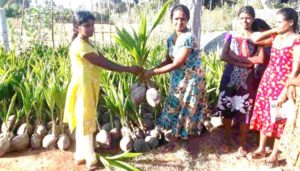 Let us pray for the Diocese of Colombo Ceylon as it continues to support the Disaster Preparedness and Response work of the committees in the different regions of Sri Lanka.
Let us pray for wisdom and support for the Diocese of Colombo for taking this work forward to Sustainable Community Empowerment
Let us pray for communities around the world affected by natural and man-made disasters at this time, for strength and perseverance, for protection particularly for the most vulnerable, for peace.
---
Links
Read more about the flood response in Sri Lanka earlier this year:
Update from the Diocese of Colombo – 10 June 2017
Update from the Diocese of Colombo – 9 June 2017
Access the Pastors and Disasters toolkit
---
Photos
1: Disaster preparedness and response team sharing the map of their community which is affected by water pollution from pig keeping, © Anglican Alliance
2: Packing cooking utensils at Church compound in Colombo, May 2017, © Diocese of Colombo
3: Youth from Diocese of Ceylon distributing water storage barrels to vulnerable households with Anuradhapura committee, © Diocese of Colombo
4: Coconut plants ready for planting, Jaffna, © Diocese of Colombo