Revd Fedis Nyagah, Umoja Coordinator for the Council of African Provinces of Africa, June Nderitu, Anglican Alliance Regional Facilitator for Africa, and Fran Mate, International Programme Manager for Us (formerly USPG), recently visited St. Joseph's Church Gikiiro, in the Diocese of Mbeere, Kenya, to learn more about how the church are using the process to develop with their community.
Before St Joseph's started Umoja, the church was struggling financially and was facing the prospect of being merged with another parish because it was not financially viable.
Since 2011 the church's vicar, Revd John Ngari, Rosalyn Ngari, and treasurer Sospeter Ndaru, have been attending Umoja facilitators' training workshops.  In these they learn about how to use the Bible studies and Umoja tools to reach out to the church and community, enable them to see their situation and resources in a new light, and work together towards sustainable livelihoods and bold plans for their futures.
Fedis Nyagah, Fran Mate and June Nderitu met members of the church and heard about how that learning had changed the church and community's outlook and prospects.
One church member did not have a sustainable income before the Umoja process.  She was left with one goat that she was on the brink of selling to bring in more finances.  The Umoja process enabled her to see that she could harness the resources she already had around her and build a new future.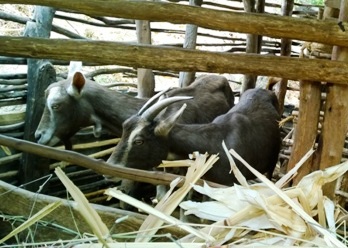 Instead of selling her last goat, she decided to feed the goat on plant material left over after harvesting from her small farm. The goat flourished and has since given birth to many sets of kids that she sells. The milk produced supplements her family's diet. Furthermore, enhanced by the manure from the goats, and after planting only one kilogram of seed maize, she has been able to harvest three sacks of maize, a great improvement from previous seasons.
Fedis Nyagah spoke about how Umoja enables the church members to see themselves and their environments differently.  She said, "The Bible studies in Umoja have really changed the thinking of the church congregation – they are now coming from a place of resource and not lack. People in the church said that before Umoja they were poor, but Umoja changed their mind set and they realised that they were expecting the diocese to support them and were not organised, rather than the other way around."
With the awakening of the church through the Umoja process, and with household projects that improved income, the church saw a dramatic improvement in its finances and growing numbers of people started to attend.
Church giving has gone up more than tenfold; the church has cleared its debts and paid its parish quota for the entire year in just the first quarter of 2014. The Mothers' Union at St Joseph's has also been able to build a new kitchen with the improved income.
June Nderitu said, "This approach will be explosive and bring great benefits for the community when the church moves beyond household projects and works more widely."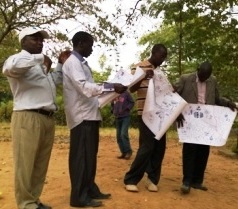 To learn more about the Umoja and Church Community Mobilisation process visit www.tearfund.org/en/about_us/what_we_do_and_where/initiatives/umoja/
In the pictures
Top: Some of the facilitators attending training in Gikiiro, Kenya.
Middle: Goats provide one church member with sustainable income and produce for her family.
Bottom: An Umoja workshop session.