Archbishop Rwaje Onesphore, from the Anglican Church of Rwanda spoke today in a panel discussion on the role of faith leaders in preventing and responding to sexual violence in conflict. The event was organised by the We Will Speak Out Coalition.
The Archbishop of Canterbury, Justin Welby, sent this video message which was shown at the beginning of the panel discussion. His message reflected on the potential role of faith communities, drawing on insights from his recent visit to a church-based initiative on tackling sexual violence in Eastern DRC.
A panel of high-level leaders were included in the discussion, which was chaired by The Rt Hon Nicky Morgan, UK Financial Secretary to the Treasury and Minister for Women.
At the start of the event, UK Foreign Secretary William Hague and UN Special Envoy Angelina Jolie greeted the panel, and the Special Envoy gave personal encouragement to Archbishop Rwaje before he spoke to the audience, pictured below. In the picture above, Archbishop Rwaje and Revd Nicholas are greeted by the Foreign Secretary.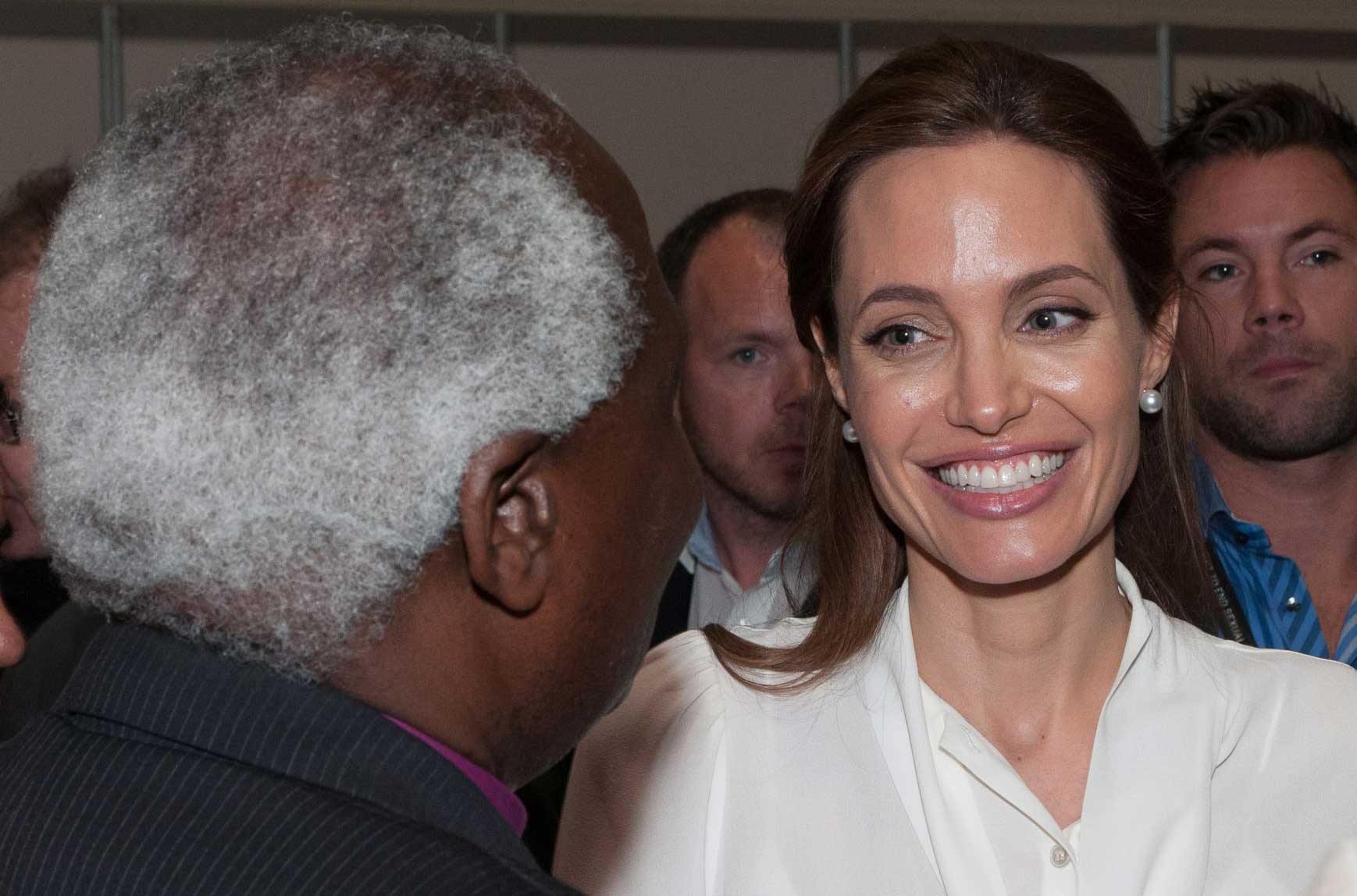 Discussions highlighted the key role that faith leaders and communities play in the fight against sexual violence in conflict, with examples given from across the faiths and from different parts of the world.
Key questions from the audience included, "Why do you think it is important that faith leaders are represented at this Summit?" and "What are the distinctive practical roles that faith leaders can play in addressing sexual violence in conflict?"
Archbishop Rwaje spoke on the work of the church in Rwanda as well as across Africa. "We have to create a safe space where victims, mainly women, are free to speak openly and find healing. Faith communities need to deal with the symptoms of sexual violence but also address the root causes."
In answer to a question on the mindset of church leaders in addressing conflict and sexual violence, Archbishop Rwaje said, "'Blessed are the peacemakers!' This is our mandate, which has been entrusted to the church."
Discussions at the event also considered how barriers to faith leaders' effective participation in preventing and responding to sexual violence can be transformed.
In a question put to the panel the Hon. Julia Duncan-Cassell, Minister of Gender and Development of the Republic of Liberia, was asked to comment on some of the barriers to faith leaders involvement.
Speaking about challenging impunity she said, "We are together, calling for international legislation to be 'domesticated' – it must be taught in all schools, faith settings, churches – and religious leaders must be included in governmental task forces."
The Hon. Julia Duncan-Cassell also commented that sometimes accepted culture and traditions need to be challenged. She said, "Religious leaders can hide behind culture and tradition. The positive attributes of these things can be recovered, but the negative attributes must be modified to prevent violence against women."
Rabbi Shulamit Ambalu said, "We must take the language of shame and transform it – all are made in the image of God. We must say to survivors, 'Shame does not belong to you.'"
The panel agreed that perseverance and persistence were demanded of faith leaders and communities in order to overcome obstacles and see real change.
Muslim panelist Shahin Ashraf said, "Each religion speaks for the fundamental dignity of all humanity."
And Miriam Maluwa, UNAIDS Law and Human Rights Adviser, said, "Advocacy by faith leaders needs to be more bold, more daring, more than breaking the silence. The subordination of women and gender inequality need to be challenged unequivocally."
As chair of the panel The Rt. Hon. Nicky Morgan closed the event, bringing together the panel's discussion and highlighting the key outcomes of the meeting.
She remarked that religious leaders are and can continue to be agents of change. There is power in the grassroots communities taking leadership to prevent and respond to sexual violence, and faith leaders are often the first responders and trusted activists for these issues. She added that governments, faith-based organisations and faith leaders must be brought together in partnership to effectively tackle sexual violence on the ground.
We Will Speak Out public events at the Global Summit will continue tomorrow, with a panel examining the holistic role of faith communities working to end sexual violence in the DRC. Archbishop Henri Isingoma of the Anglican Church of Congo will be joined by Dr Jo Lusi, Founder of HEAL Africa in Goma, and others to discuss the role of faith communities in ending sexual violence in DRC – more details are available on our website.
Note: The We Will Speak Out Coalition is a faith-based group of organisations, including the Anglican Alliance/Anglican Communion, which works to end sexual violence globally. We Will Speak Out was launched at Lambeth Palace by the Archbishop of Canterbury in March 2011. The coalition has recently released a three-year strategic plan to aid their work to see sexual violence overcome and communities transformed. More information on We Will Speak Out is on their website at http://www.wewillspeakout.org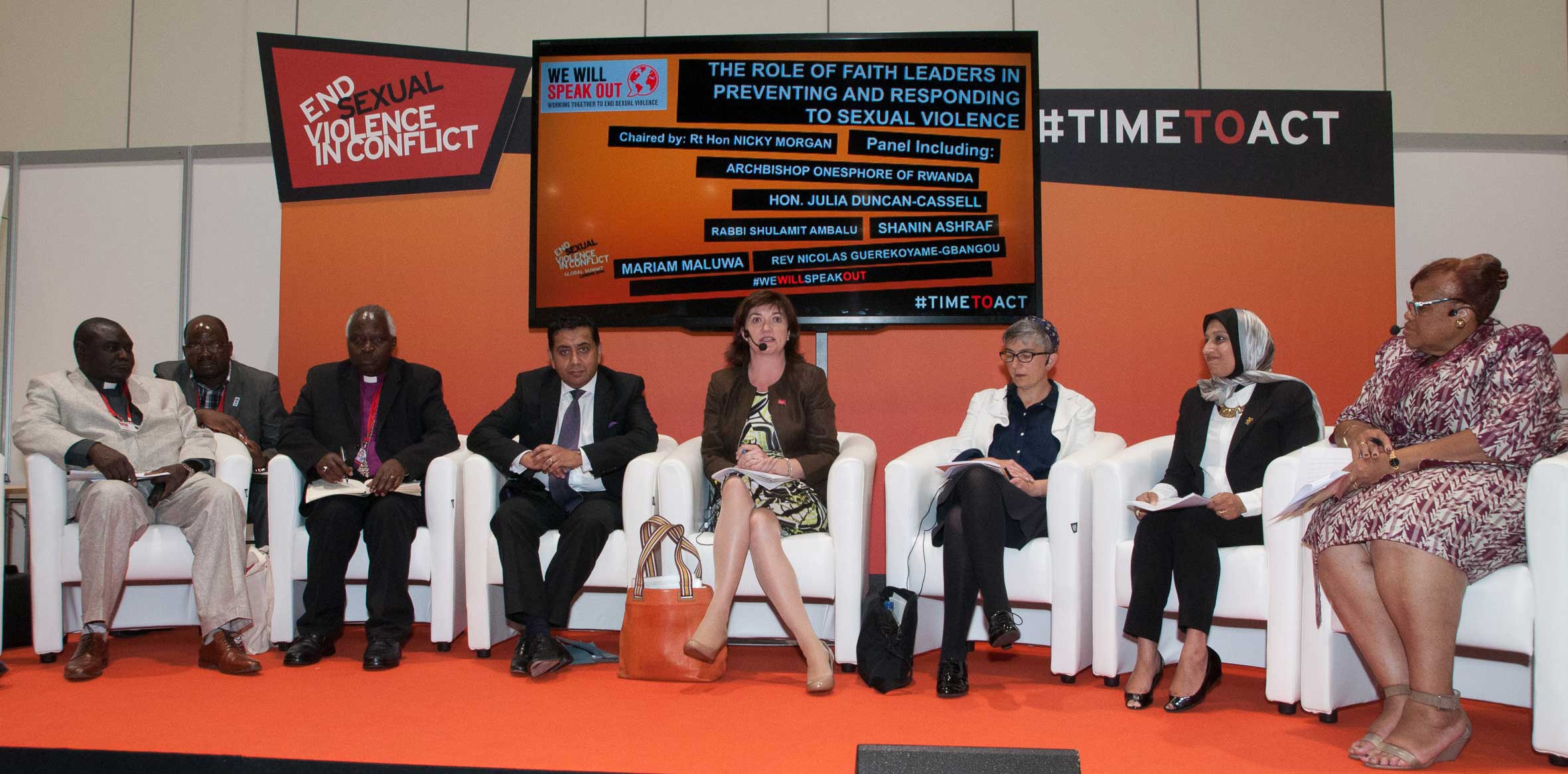 In the picture, above (from left to right):
Miriam Maluwa, UNAIDS Law and Human Rights adviser (off picture); Revd Nicolas Guerekoyame-Gbangou, president of the Evangelical Alliance in the Central African Republic; Mr Hendrew Lusey (behind); Archbishop Rwaje Onesphore, Archbishop of the Anglican Church of Rwanda; Rt. Hon. Nicky Morgan, UK Minister for Women; Rabbi Shulamit Amabalu; Shahin Ashraf, Muslim Chaplain at the University of Birmingham and a founding member of Islamic Relief USA; Hon. Julia Duncan-Cassell, Minister of Gender and Development of the Republic of Liberia.