An appeal launched by the Church of Bangladesh through the Anglican Alliance raised USD $16,000 for garment workers and their families, following the collapse of the Rana Plaza factory in April last year.
Some families, many of whom lost their sole income earner in the disaster, failed to receive financial support in the months following the tragedy.  Through the support of Anglicans worldwide, the Church of Bangladesh has been able to help the families most in need.
Bishop Paul Sarker, Moderator of the Church of Bangladesh, has led the distribution of financial support and resources, and continues to fight tirelessly for the rights of garment workers.
The Church were able to respond immediately to families and garment workers, and provided food, water and medication to those who had lost their household income and who had been severly injured.
And long-term support has been provided by the Church to particularly affected families.  Resource packs have been distributed to help these families secure alternative sources of income, after their main income earner was either killed or injured in the factory collapse.  
One garment worker, Yeanoor, was injured in the collapse and needed a serious operation.  She is still physically unfit for work, and unlikely to return to the garments industry.  She has expressed her gratitude to the Church for the support they have given.
She said, "I am too grateful for the support. I will invest the money in small business and that will help me and my family overcome our frustration and uncertainty." 
More than 1000 people died in the disaster, which revealed the injustice of the garment industry in Bangladesh. With a global coalition of churches, the Anglican Alliance responded to the crisis and campaigned for justice for garment workers.
A campaign resource highlighting the need for global justice, wage justice, and living justice, was produced by the Alliance, and it has been used by Churches and individuals across Australia, Canada, the UK and the USA.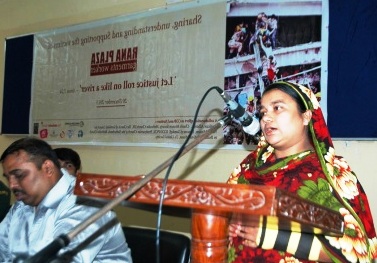 Pressure put on stakeholders has resulted in greater awareness in the garment industry and conditions for garment workers are gradually improving.
Bishop Paul has urged the Church to continue their efforts and press for justice for garment workers.  He is working to defend the rights of  garments worker and fight for increased wages and safe working conditions.
Bangladesh is the second-largest garments exporter in the world with around 4.2 million people employed in the industry. The garment industry provides more than 80% of the country's total export earnings, and 13% of the GDP.
In the pictures:
Top: Bishop Paul Sarker visits those injured in the Rana Plaza collapse
Bottom: Shila, a garment worker injured in the disaster, speaks up for the rights of garment workers in Bangladesh at a Church event .